Planning and Operation of Power System Dominated by Power Electronic Converter Based Generators
Event Description
Dear IEEE PELS, Senior Members, Members, and Graduate Student Members,
Greetings from IEEE Malaysia Power Electronics Society (PELS) Chapter, hope this email finds you well.
On behalf of the IEEE Power Electronics Society (PELS) Malaysia Chapter, I would like to invite everyone to the live streaming IEEE PELS Malaysia Chapter National Lecture Program (NLP) as follows: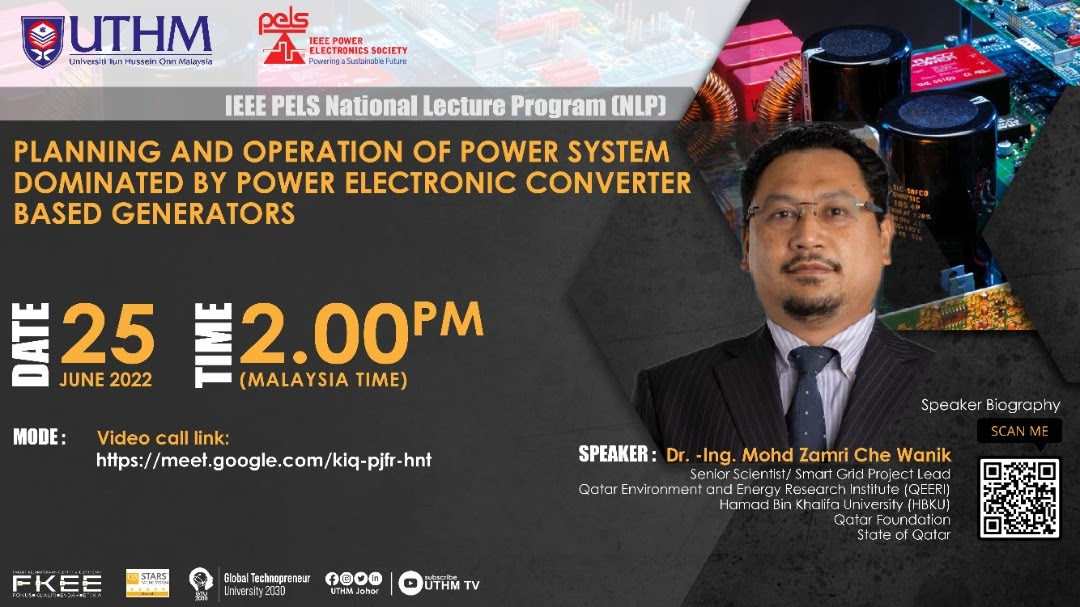 Title             : Planning and Operation of Power System Dominated by Power Electronic Converter Based Generators
Speaker       : Dr. -Ing. Mohd Zamri Che Wanik
Date            : 25th June, 2022
Time           : 2.00 PM – 3.00 PM (Malaysia Time)
Venue         : Google Meet
Event Link : https://meet.google.com/kiq-pjfr-hnt 
To view complete details for this event, click here to view the announcement
We look forward to your participation.
Best Regards:
Shamsul Aizam bin Hj Zulkifli, Ph.D
Associate Professor,
Head of Postgraduate Studies,
Department of Electrical Power Engineering,
Faculty of Electrical and Electronic Engineering,
Universiti Tun Hussein Onn Malaysia,
86400, Parit Raja, Batu Pahat, Johor D.T
Malaysia
Tel:+6074537559
Hp:+60123487636
Personal Homepage: https://sites.google.com/site/acul1508/
Built Process